Stellar Displacement, 2015, Immersive Installation
Roles: Design, Production

Stellar Displacement is a traveling immersive environment in a box truck that transports participants into an experience of lying in a forest clearing on a summer night in the middle of nature while staring up into the sky. Our mission is to bring a sense of the night sky, stars, and constellations to urban areas where light pollution prohibits visibility to the celestial sphere.

The installation will be built inside a 15' box truck. A planetarium projector will be installed and project nightscapes and other scenes from space around the room. A shadow plate will create the illusion of trees surrounding the viewer, who lies down and faces up on grassy sod. Additional sensory experiences include the chirp of crickets, flitting fireflies, and evocative olfactory set dressing.

While those of us in the Bay Area are privileged enough to have relatively close access to nature, it is a privilege that is often underutilized, as the convenience of being in a city so bloated with on-demand services distracts from a more primal attraction to being awed by natural spectacle.

Our Stellar Displacement Truck would aim to randomly appear in urban streets and offer the experience of stumbling upon a gorgeous view, rather than making plans and schemes to find them. We hope that this experience can encourage participants to seek out natural wonder, as well as being more observant of mundane beauty in all environments.

Variations of the project have been shown at the Battery and Come Out and Play Festival.

Stellar Displacement is a project of the Living Room Collective, whose members comprise: Michael Katsevman, Jessica Lachenal, Kat Meler, Alex Kryzanowski, Aaron Wynn, Justin Tang, Min Yoon, and Albert Kong.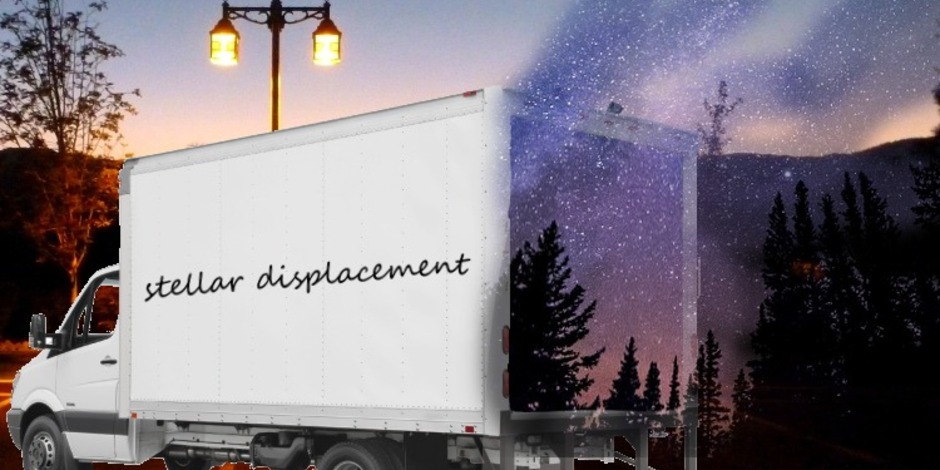 ___