Rebirth, 2015, Experience for One

Collaborators: Martin Harkins; Rachel Fong; Shane da Silva; Andy Buchanan; Jeanette Tenthory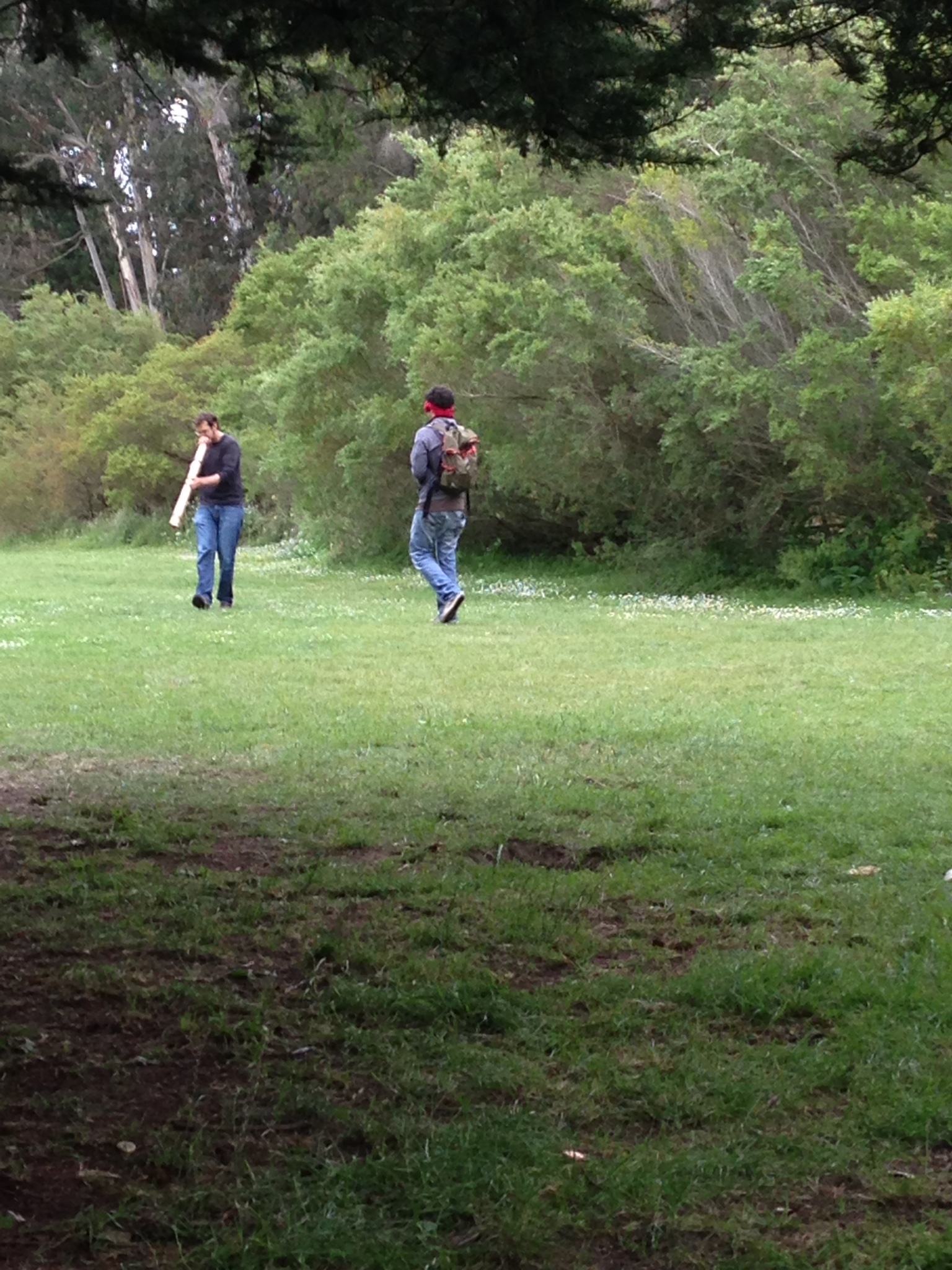 FEELS:
reflective / meaningful / personal / relational / tactile / playful / questy / fun/ jovial / wonderful / transgressive

THEME:
from void to excess; sensory deprivation, restoring a sense or making one sense predominant for each puzzle/stage/finding
"exploration of the psyche" to tie together puzzles & presents, for example framing it as if he has to wander through mindspaces collecting pieces of our memories about him in the form of letters, gifts, and other sentimental items.
beautiful fun glorious picnic in the park, progressively collecting a katamari of friends and gifts / picnic stuff as he finds each checkpoint

INSPIRATION:
Friendship gifts that are highly personalized to try to evoke the deepest experience tied to memories, shared experiences, new experiences, and/ or something that's very unique to the individual.
Mike wants an elaborate experience/ adventure with his friends and something made for him.
Fun example of a well-set up experience: https://www.youtube.com/watch?v=eYjrs-51mXU

FORMAT:
pre-printed envelopes of different instructions for different checkpoints- e.g. open next envelope
surprise invitation/ start/ narrative set up
personalized checkpoints- loosely tied/ involvement of friends
tactile puzzles/ exciting delivery of instructions
normal surprise party/ hang out at the end

THE ADVENTURE:
[3:45pm] INVITATION @ Mike's House
Mike finds cipher code. Finds envelope 1 & 2.
Min leaves for Alexandria to put up photo while he's decoding .
ENVELOPE 1: "This message is for you. Turn left on Geary St. and go two blocks. Look for a picture. Only when you find it, you may open the next envelope. Wish you good senses."

2. [4:00pm] IMAGINARY PRE-PARTY @ the Alexandria- 5400 Geary St.
Min: Tape photo of us at the Alexandria.
ENVELOPE2: "I know you wanted your party here but it's not. There is no party. There is just an audio clip here: http://vocaroo.com/i/s1nm4H4LSLb8"
AUDIO: He is told to listen to an audio clip (by clicking a link on his phone) that starts with "Close your eyes" "You're invited stand at a corner. Someone in a mysterious hat meets you and hands you a pin. He then takes you behind the theater where it's dark and leads you to an entrance. You enter. No one yells surprise. The place is dimly lit then you realize that something is by your feet on the ground. You look around. There is something on stage. There are some people in the nude that resemble centaurs on stage. They are breathing fire and dancing. You want to join in. All of a sudden, you hear a loud noise. You then realize that you're not alone. There are many around you with pins and there are balloons on the ground... Come back. Go to corner of 18th and Clement and close your eyes and wait for instructions"

TRANSITION: Min blind-folds him, puts on music in his ears, and takes him in an Uber to 2219 Filbert St, San Francisco, CA 94123.

3. [4:45pm] SENSORY DEPRIVATION @ ZaZen 2219 Filbert St. (appt at 5pm)
Min enters Zazen first to prep the person in there.
Min comes back out for Mike turns off his music and says "are you ready for the real experience?"
Min takes him into the room.
"Imagine some of the most wonderful experiences that you've been on….. This one's especially for you.."
Min asks Mike to take off all his clothes. "At the sound of 2 claps, take off your blind-fold."
Min will clap and leave the room. (Min needs to pay and give Tyler the envelope.)
Mike will read instructions for the sensory deprivation tank (and ask the front person if he has any more questions) then enters for 60 minutes.
Envelope 3- After the float, Mike receives from Zazen attendant (Tyler)? : "All that you live, you have stolen from life; you live at her expense. Your life's continual task is to build your death. You are in death while you are in life when you are no more in life you are after death." - Montaigne "go to the corner of Fillmore and Union and put your blind folds back on and wait."
FILLMORE & UNION: Min meets Mike and says- "Glad you made it. We know it's been rough for you recently. Feelings of void can be overwhelming. Starting now, imagine this void to be a new beautiful beginning like a box empty for you to fill up. Pay close attention with your refreshed senses."
TRANSITION: Min will Uber Mike to GG Park- 41st avenue and Lincoln

[5:45pm] Martin, Shane, Rachel, Andy, Jeanette, (and maybe Ryan)- meet at GG Park
@ 41st avenue and Lincoln
set up picnic, and assemble/ rehearse!
Call Martin if you get lost - 415 691 5653
https://www.google.com/maps/dir/37.7717259,-122.5035116/37.7659927,-122.4997083/@37.7693994,-122.5026966,16z/data=!4m3!4m2!3e2!5i2



4. [~6:45pm] TOUCH/ Enter the park @ 41st Ave. and Lincoln
Shane comes to get Mike from Min
"Now I want to take you on an adventure, Mike." - Shane
"Trust in your senses. They're all you have."
SHANE guides Mike silently to the next location.
Everybody else- waiting at the main location

5. [~7:00pm] BIRTH/ group hug @ main location 418 Chain of Lakes Dr E, SF
Shane and Martin will squeeze Mike with a blanket for 5 seconds. Shane/ Martin should coordinate via taps and then suddenly let Mike go. To "give birth" to him to evoke some sort of entering and new space.
Rachel- Squeeze horchata into his mouth as soon as they let go.

6. [~7:05pm] KATAMARI OF FRIENDS @ main location 418 Chain of Lakes Dr E, SF
HEAR/ Martin will start playing Didgeridoo.
Shane starts heartbeat sound on his speakers.
- One person at a time, will place a hand on Mike one by one- until we all have our hands on him and are walking together to the final spot. You can improvise.- tell him a story, give him some food or just place your hand and walk.
Shane places his hands on Mike then starts walking and talking. (He can improvise to tell him a story, read him a poem, give him food to smell, etc.)
While Shane is touching/ walking with Mike, Andy will put his hand on Mike and improvise and walk together. We can be slow and random in doing this.
Everyone: Then next, next, next. (Figure out order at GG Park)

7. [7:30pm] REVEAL @ main location/ picnic blanket
SHANE: "Do you smell that?"
Min- Take off Mike's blind folds
Everyone: Dry-ice and we're all doing something random (like dancing, spinning poi, reading, etc.) when the blind-folds are undone. If it's dark, have poi lights out around picnic area.

Min will read Mike this poem:

Do not go gentle into that good night,
Old age should burn and rave at close of day;
Rage, rage against the dying of the light.

Though wise men at their end know dark is right,
Because their words had forked no lightning they
Do not go gentle into that good night.

Good men, the last wave by, crying how bright
Their frail deeds might have danced in a green bay,
Rage, rage against the dying of the light.

Wild men who caught and sang the sun in flight,
And learn, too late, they grieved it on its way,
Do not go gentle into that good night.

Grave men, near death, who see with blinding sight
Blind eyes could blaze like meteors and be gay,
Rage, rage against the dying of the light.

And you, my father, there on that sad height,
Curse, bless, me now with your fierce tears, I pray.
Do not go gentle into that good night.
Rage, rage against the dying of the light.